The European hub for research and innovation in the forest-based bioeconomy
​The Forest-based Sector Technology Platform (FTP) is a European Technology Platform (ETP) dedicated to the forest-based sector. It is the meeting place for industry, forest owners and public authorities, to discuss and build up a critical mass of knowledge on common research and innovation needs for the sector, and to decide on the best ways to cooperate.

In this way, FTP delivers sound, scientific, strategic and EU-relevant information to public funding providers, thus facilitating opportunities for targeted investments in research, technological developments and innovation (RTDI).

The main aim of FTP is to develop, promote and implement a Strategic Research and Innovation Agenda, to advance competitiveness and sustainability of the forest-based sector through innovation. This is set out in FTP's mission statement.

FTP is the primary focal point for the European Commission with regard to forest-based research and innovation. Through its strong representation in various EU advisory bodies and expert groups, FTP advises policymakers on the sector's RTDI priorities. FTP also collaborates with other organizations in various initiatives and projects aimed at profiling the forest-based sector as the key actor in and enabler of the bioeconomy. It has been acknowledged as one of the most successful among the 38 ETPs recognized by the European Commission.

FTP is open to the entire forest-based sector. Please contact the National Support Group for your country to engage with the activities of the network at national level.


Mission
FTP's mission is to advance the competitiveness and sustainability of the sector through innovation. The core activities managed and carried out by FTP are:
1. To facilitate maximum public funding for the benefit of the sector's stakeholders
2. To create opportunities for cooperative research and innovation at European level
3. To strengthen the innovation profile of the forest-based sector
4. To mobilize a critical mass of research and innovation capacity from within the sector
Governance
FTP is a network-based organization with a governance structure that comprises a Board, an Advisory Committee, National Support Groups (NSGs) and task forces (FTP TFs) that receive operational support from research umbrella organizations, and sponsorship from supporting companies.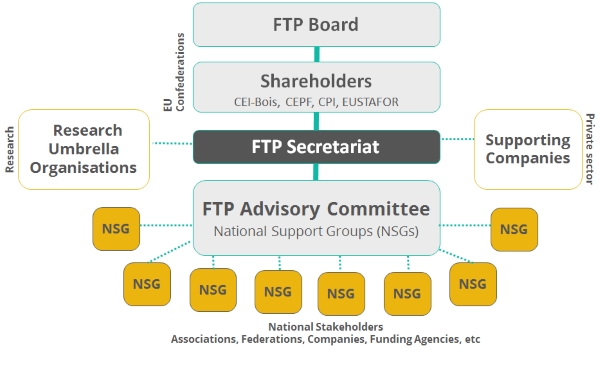 FTP's management and coordination activities are carried out by a secretariat based in Brussels. FTP was founded in 2005 by four forest-based sector shareholders. It was incorporated as a private company in 2009, registered under Belgium law as a societé privée à responsabilité limitée (sprl) no. 0809392942.