Landfills are usually the final spot where window frames come to rest after the end of their lifetime, if they are not re-processed and converted into new products. The resource efficient reuse of post-consumer wood products have been studied in the project Cascading Recovered Wood (CaReWood) and fully demonstrated by its ReWin window, a prototype of a wood window made of recovered timber from frames of around 50 years old windows.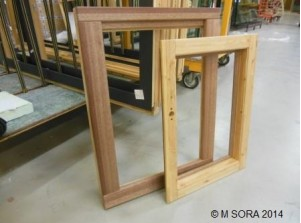 During the past year, the Slovenian company M SORA d.d. worked in the development of this prototype in the framework of the CaReWood project, which is coordinated by the Technical University of Munich (TUM). In the production process, old larch and meranti windows were disassembled, cleaned and checked for remaining wood preservatives by M SORA and Fraunhofer WKI. Recovered wood was then jointed again and a brand new prototype window was produced. The results were good in this step and there is positive expectation for optimal performance in the second life of these windows.
"The ReWin window is a unique product that represents a completely fresh idea and innovation in the field of builders' joinery," affirmed Mika Kallio, Project Manager of the WoodWisdom-Net+, an initiative of the European Commission in the framework of the ERA-NET Plus that provides funding to the CaReWood project together with national funding agencies. Honoured as the best innovation with a social impact at the 10th Slovenian Innovation Forum 2015, the ReWin window has awarded M SORA with a number of other international prizes and recognitions in the areas of innovation and environmental performance. "This is the type of success that a company may achieve with active participation in international research and technology development projects," concludes Kallio.
The project has been demonstrating that wood in the disposed windows is still healthy, clean, has good quality and is suitable and reliable for further use. By re-inserting recovered solid timber in the production value-chain, the project also exemplifies the market competitiveness and sustainably of wood based products, confirming their crucial role in implementing a Circular Economy for Europe. "This case illustrates perfectly the progress of the forest-based sector in research areas focused reuse and recycling systems, as appointed by the Strategic Research and Innovation Agenda for 2020 among the priorities to sustain the competitiveness of the European forest-based sector", explains FTP's Managing Director Johan Elvnert.
By the end of 2017, the project will deliver even more results about wood recycling after normal lifespan, with particular emphasis on wooden windows. It will also develop a business model for cascade use of wood recovered from building renovation and demolition, the furniture sector and the packaging and transport industries.
Read more about the project.