Raw material value chains in Europe must be equipped for addressing consumer- and market-driven needs, as well as the grand societal challenges in order to remain competitive and sustainable by 2050. This conclusion was the main takeaway conveyed to VERAM partners by the European Commission at the VERAM Experts' Workshop, held in Brussels on 13 June 2017.


With a view to the next EU Framework Programme for Research and Innovation, Milan Grohol, Project Officer from DG GROW, emphasised the high expectations generated by the VERAM project which intends to deliver a common Vision and Roadmap 2050 for European Raw Materials, in relation to research and innovation activities. "The task will require a strong commitment and collaboration between different raw materials stakeholders spanning the traditional sectors and value chains", remarked Grohol, while encouraging project partners to continue working towards a shared vision for the sector. 
Organized by FTP, together with VERAM partners, the workshop brought together over 60 experts across the raw materials sector and value chains, to discuss preliminary proposals for common research and innovation areas (RIAs) developed by the FTP-led team. Working groups were formed around the main pillars of the Roadmap 2050, covering the supply and processing of raw materials, closed-loop systems, as well as raw materials in new products and applications.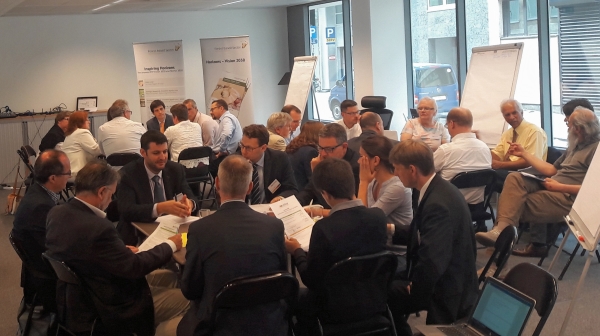 Following an introduction to the abiotic and biotic value chains by the leading project partners – FTP and the ETP on Sustainable Mineral Resources (ETP SMR) – participants were divided into small working groups to discuss tabled proposals and to find cross-sectoral synergies. After intense discussions, the groups shared their views with the audience, providing VERAM partners with valuable feedback to mark the mid-term phase of the roadmapping process.
Launch of a public consultation on the Roadmap – The Experts' Workshop was the first milestone towards a Research and Innovation Roadmap 2050 for European Raw Materials. After processing the input and feedback collected during the workshop, a public consultation on the Roadmap will follow. This consultation will reach out to a broad network of stakeholders across sectors and value chains, providing stakeholders of the forest-based value chains an extensive opportunity to help shape and prepare the final Roadmap. At the same time, it will make the sector's ambitions and objectives visible, ahead of preparations for the next EU research and innovation funding programme, FP9. 
Sign up for a pool of VERAM experts 
Would you like to become more involved in shaping the Roadmap? Do you have expertise in one or several areas across the raw materials value chain and feel your contribution would make a difference? If your answer is yes, please sign up to join our pool of VERAM experts by filling in your contact details and areas of expertise here. There is not a long-term or definitive commitment, however, we may consult you regarding concrete advice on a specific issue. Questions about the Roadmap? Don't hesitate to contact the FTP Secretariat: heini.hyrkko@forestplatform.org.
Funded under the European Union's Horizon 2020 programme, VERAM aims to provide an umbrella and coordination function for raw materials related to research and innovation activities across Europe. The results of this project will feed into the ongoing preparation of the next EU Framework Programme for Research and Innovation. The VERAM partners are committed to delivering the Roadmap by the end of May 2018. Read more about the project: www.veram2050.eu
Presentations at the Workshop
Introduction to the VERAM project
Henk Pool, Communication and Dissemination Work Package Leader

A long-term vision for the raw materials?
Milan Grohol, Policy Officer at DG GROW, European Commission

Europe's long-term vision on abiotic resources
Corina Hebestreit, Director, Euromines
Biotic raw materials and innovative value chains
Johan Elvnert, Managing Director, FTP
The Vision
Corina Hebestreit, Director, Euromines

Europe 2050: Preparing a Research and Innovation Roadmap for Raw Materials
Johan Elvnert, Roadmap Managing Director, FTP