"I see more opportunities than challenges for the forest-based sector and this is what is exciting about this sector. My advice to you is: plant more trees, make more timber and build more homes and buildings in Europe." With these remarks, MEP Paul Brannon wrapped up the Value of Wood Forum, that took place in Brussels, to celebrate the International Day of Forests, on 21 March. 
In the session on Wood, Innovation and Bioeconomy, chaired by MEP Henna Virkunnen, FTP Managing Director Johan Elvnert introduced 'Amazing Forest-based Innovations' and explained that innovative wood-based materials and products promised to offer excellent performance in the construction sector. "Wood has low embodied energy, is five times lighter than concrete and steel and is a natural thermal insulator. Expanding its use is certainly a strategic decision that will contribute to fulfilling Europe's targets in the international climate agreements." 


The round of discussions also covered the relevance of bioenergy, agroforestry systems, nature conservation and forest certification to sustain a forest-based bioeconomy. 
In the first session, speakers shared interesting exciting cases of wood being used in the construction sector and the technology behind cross-laminated timber (CLT) that supports the expansion of pre-fabricated, multi-storey constructions.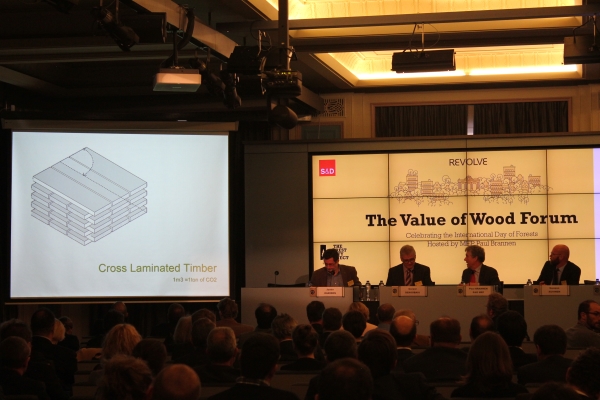 Revolve Media


​The event marked the official opening of the #ForestCityProject, a public information campaign that aims to reconnect citizens with nature and bring their attention to relevant policy discussions around forest resources. The campaign includes a special edition of the Revolve Magazine dedicated to this theme, as well as an exhibition about the value of forests and wood. The panels will be on display throughout the spring in the Cinquantenaire park in Brussels until 5 June 2017.
The #ForestCityProject is supported by FTP, the European State Forest Association (EUSTAFOR), the European Organisation of the Sawmill Industry (EOS), the Programme for the Endorsement of Forest Certifications (PEFC) and other partners.
All presentations from the Value of Wood Forum are available for downloading.