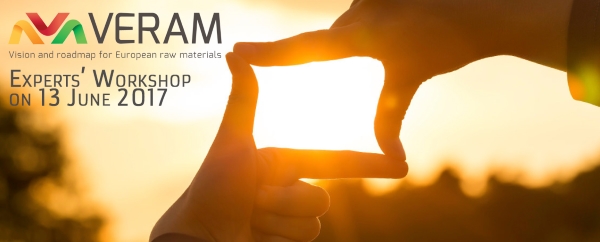 The partners of the Horizon 2020 funded project Vision and Roadmap for European Raw Materials – VERAM cordially invite you to participate in the VERAM Experts' Workshop, which will take place on 13 June 2017, in Brussels. Your views, opinions and ideas are crucial to setting a comprehensive and solid Research and Innovation Roadmap for European Raw Materials in 2050. 
The event will be hosted with a view towards the next EU Research and Innovation Framework Programme (FP9), and the new mandate of the European Innovation Partnership on Raw Materials (EIP RM) undertaken by the Directorate General for Internal Market, Industry, Entrepreneurship and SMEs (DG GROW).
Innovation in raw material value chains remains untapped despite the sector's great potential. A long-term vision and roadmap to 2050 are crucial to achieve European economic growth and restructuring. Therefore, a more coordinated approach towards raw materials management will help reduce external supply dependency and lead to an efficient use of resources, improve the competitiveness of EU industry, and its environmental impact and eco-efficiency.
Europe 2050

Preparing a Research & Innovation Roadmap for Raw Materials
 13 June 2017, at 10:00-16:00, in Brussels 
(Rue du Commerce 123 – OREGA Office Services
)
You will actively contribute to the selection process of the most relevant Research and Innovation Activities required to achieve the sector's goals. Join our experts in biotic and abiotic raw materials from across Europe in interactive sessions to explore the technological, environmental and business related sector objectives needed to overcome the challenges in:
•    transforming the EU's supply of raw materials into a sustainable and knowledge-based model;
•    setting efficient and smart manufacturing, processing and refining processes;
•    providing raw materials for new applications and products;
•    and maximising closed loop material recycling.
Don't miss the opportunity to have your say on the future of research and innovation for raw materials! Places are limited. Please register here.
For more information on the VERAM project, see www.veram2050.eu
For any questions, please do not hesitate to contact the workshop organisation team:
Ms Thais Mattos: thais.mattos@forestplatform.org
Ms Heini Hyrkkö: heini.hyrkko@forestplatform.org