FTP being now an international membership-based association, we are glad to provide you with information about FTP's new membership categories. With this transformation, FTP aims to provide the best services and value to its members.

Who can become a Member
FTP membership is open to organisations who are stakeholders in the European Research Area forest-based sector.

Membership categories
FTP membership includes two categories: Full Members and Associate Members.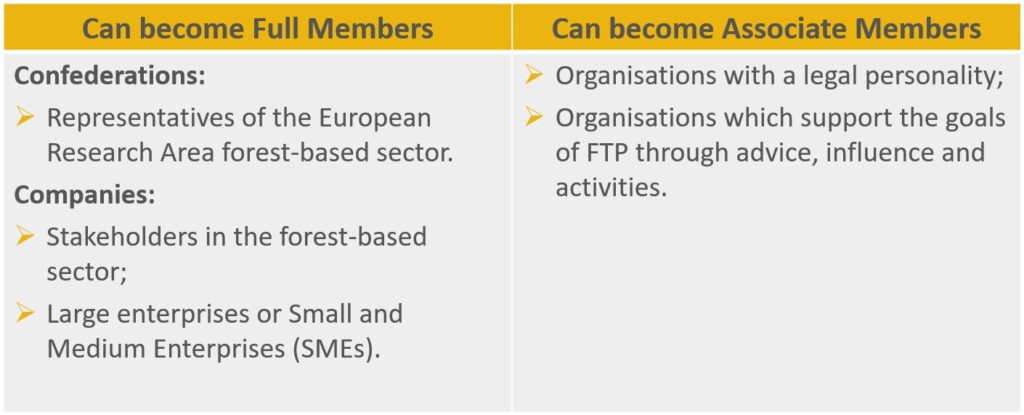 Five reasons to become an FTP Member
Joining a unique network for sharing knowledge and building capacity
Becoming a member of FTP means joining an international platform in which members, industry actors, forest owners and managers as well as public authorities work together to advance competitiveness, sustainability and innovation in the forest-based sector. It also provides a strong network for members to exchange knowledge, ideas and update research and innovation information at national, European, and international levels.

Shaping the future of the forest-based sector
FTP represents the interests of its members vis-à-vis the European Union's institutions, the governments of countries where members are headquartered, and international organisations. FTP Members can participate in advising and formulating a common perspective on research and innovation priorities for the forest-based sector, such as contributing to the development of the joint vision of the forest-based value-chain in the European Research Area as well as the sector's strategic research and innovation agenda. Through its strong representation in various EU advisory bodies and expert groups, FTP provides members with opportunities to enhance their voice as well as advice on how they can react towards international, EU and national debates and policy developments related to the sector.

Updating industry news and insight
Members are regularly informed about internal issues, new funds and calls for proposals, policy developments and other news related to the forest-based sector through FTP's digital communication channels such as newsletters, which are published on average 6 times a year, FTP's website and social media platforms (Twitter and LinkedIn). The FTP Database, a resourceful tool to track the progress of the sector's research and innovation agenda, compiles ongoing and concluded research and innovation activities carried out within the European forest-based sector, and provides details of relevant funding opportunities.

Increasing credibility and visibility
Members are invited to participate in FTP's events such as the General Assembly, annual conference, seminars, workshops, and other programs and gatherings at international, EU and national levels. FTP's website and social media channels are used to update and promote not only FTP's activities but also the activities of its members.

Receiving timely support from the FTP Secretariat Office
The FTP Secretariat Office, situated in the heart of the EU quarter in Brussels, provides timely support to members in terms of up-to-date information, advice on funding opportunities, networking and finding relevant contact points. Members are welcome to consult the Secretariat Office on issues which are of interest to them.

Besides the common membership benefits mentioned above, there are some differences between the two membership categories.


Are you interested in becoming an FTP Member?
Let us guide you through our statutes and full information on FTP membership.

Please contact us at ftp@forestplatform.org. We will be happy to answer all your enquiries at your convenience.


Download: