The forest-based sector in Finland
Forestry and the forest industry are of fundamental importance for Finland. The forest industry alone generates about 150,000 jobs in Finland. In 2016, the value of forest sector exports was 11.5 billion euros, being thus the largest export sector in Finland. The exported forest products of greatest impact were paper and board, paper pulp and sawn timber. As a consequence of several factors, most prominently the decline in demand for certain paper grades, the sector is now in a period of transformation. This transformation requires support from focused R&D, both nationally, as well as on an EU level.
The Finnish R&D agenda of the forest-based sector 'Recommendations for the Finnish forest-based bioeconomy R&D' highlights the most important and topical R&D needs from a Finnish perspective identified by the Finnish National Support Group of FTP. The agenda complements FTP's Strategic Research Agenda (SRA), with a view to responding to the national challenges in Finland.
More specifically, the Finnish agenda identifies important R&D topics related to both conventional value chains as well as new value chains. It also identifies R&D topics related to bioenergy, when linked to forest industry operations, as well as related to 'digitalization' and the development of new business models.
The Finnish National Support Group involves representatives across the whole forest-based sector, from research institutes and companies to forest owners and civil servants.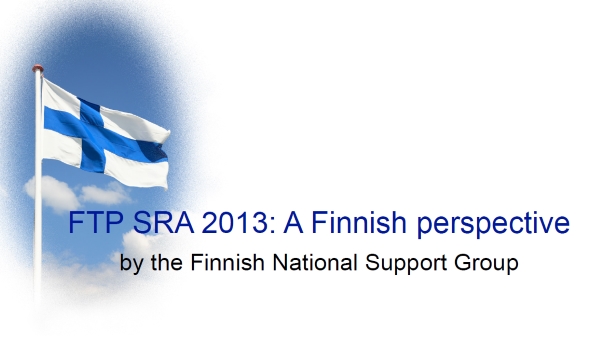 Do you want to know more?

Are you a representative of a Finnish company or organization and do you want to know what FTP can do to help you in the European arena?

Please contact the secretariat of the National Support Group of Finland





.
​Innovation News
Novel concepts of biorefineries on the spot
Research Projects

Search for the complete list of Finnish research projects