The two scientists Professor Ilkka Kilpeläinen and Professor Herbert Sixta (University of Helsinki and Aalto University respectively) were awarded last week by the Marcus Wallenberg Prize 2022.

Their two research teams have worked on the development and use of novel ionic liquids to process wood biomass into high-performance textile fibres. Ionic liquids have gained interest as green alternatives for organic solvents in different processes. Ionic liquids are salts that can be melted below 100)C and have unique properties including low vapour pressure, high thermal stability, and high dissolving capability of different organic and inorganic substances.

The team led by Prof. Kilpeläinen at the University of Helsinki developed superbase ionic liquid solvents for dissolution of wood biomass e.g. bleached or unbleached pulp or recycled cellulose pulp. Prof. Sixta and his team, at the Aalto University, developed the ionic liquid-based fibre shaping process based on dry-jet wet spinning.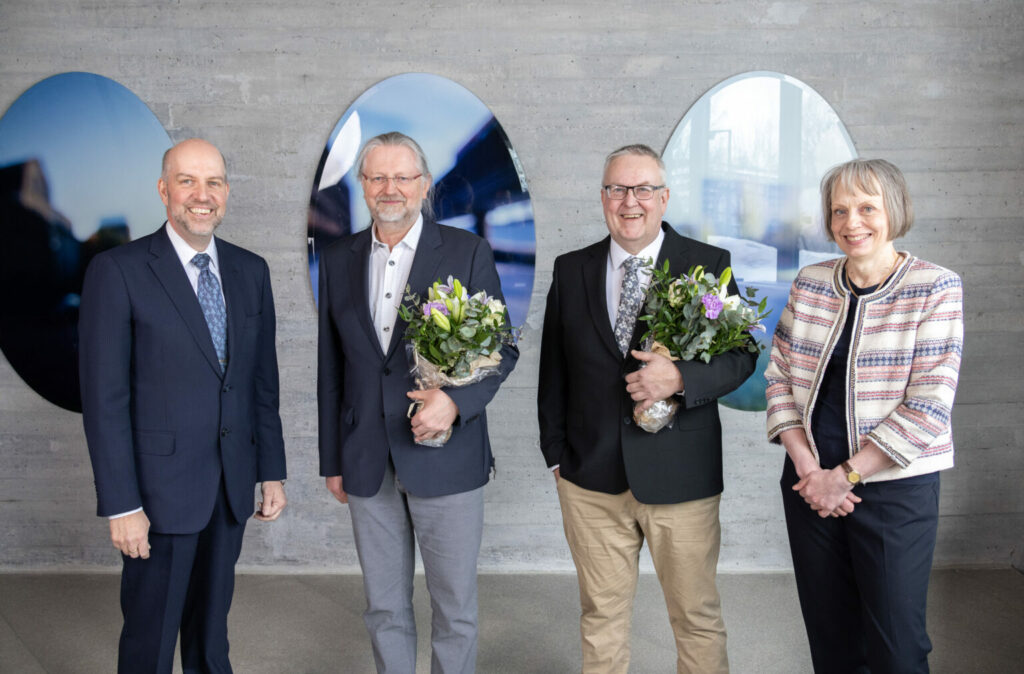 From left, Mikael Hannus, The Marcus Wallenberg Foundation, Herbert Sixta, Aalto University, Ilkka Kilpeläinen, University of Helsinki, and Johanna Buchert, The Marcus Wallenberg Foundation. Photo: Aalto University/Mikko Raskinen.

"This unique collaboration has resulted in novel sustainable concept of textile fibre production from wood. The innovation is expected to result in a large range of new product and business opportunities for the forest industry", says Johanna Buchert, Chairperson of the Marcus Wallenberg Prize Selection Committee.

Mikael Hannus, Executive Secretary of the Marcus Wallenberg Foundation is also involved in FTP as Chair of FTP Board of Directors.

The ceremony of the MWP 2022 will be held in Stockholm in October. In the meantime, you can watch the video of the MWP 2022 Announcement at this link.

More information about the Prize Winners here.