In recent years, Europe has experienced a significant increase in the frequency and intensity of wildfires. These extreme wildfires have resulted in devastating consequences, including the loss of life, destruction of natural habitats, damage to infrastructure and the release of harmful emissions impacting air quality.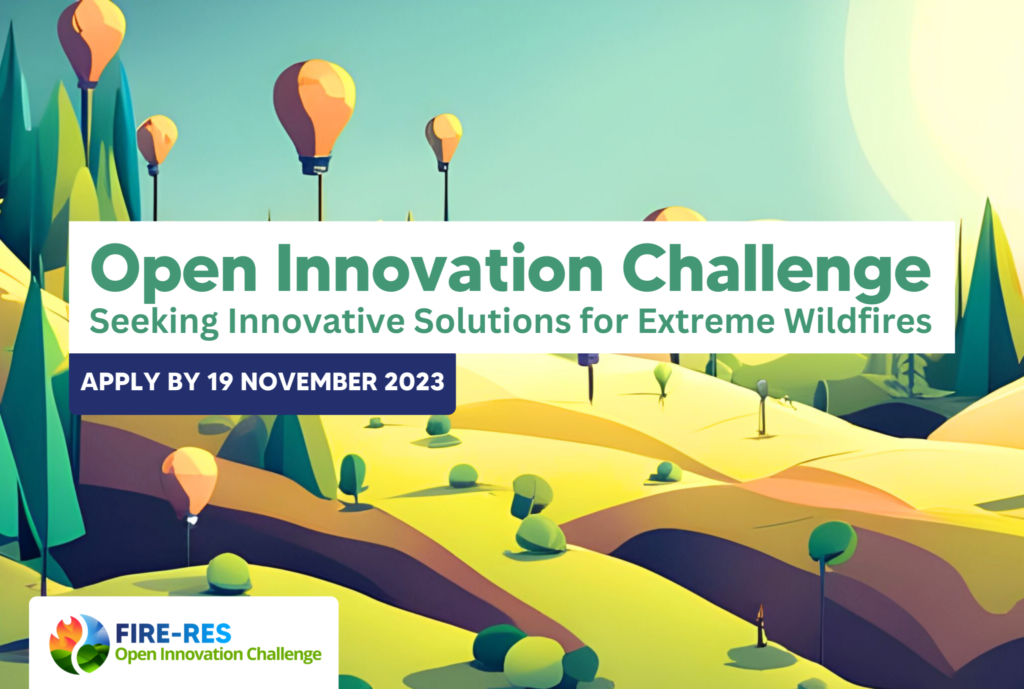 The EU project FIRE-RES is calling upon innovators, entrepreneurs, technologists, researchers, businesses of all sizes, experts, and all forward-thinking minds in the field to step up and submit cutting-edge solutions addressing the challenges experienced by different stakeholders coping with the risks of extreme wildfires.
The challenges are organised under the following themes:
Risk Communication and Awareness
Engagement and Empowerment
Training and Education
Management Before, During and After Extreme Wildfire Events
Monitoring
Forecasting and Decision Support
Policy and Governance
They are looking for innovative solutions in all development stages – from early ideas, methods, prototypes to close-to-market or market-ready services and products (from here on summarised as "solutions") that can help solve our FIRE-RES Open Innovation Challenges. The solutions may address any stage of wildfire management: prevention and preparedness, detection and response, restoration and adaptation. We welcome all kinds of solutions, for instance technological, social, or business model related; products, services, platforms, processes, procedures, best practice, etc. 
Successful applicants with early-stage solutions, such as ideas, will be supported to develop their solutions, while those with later-stage solutions, such as prototypes, close-to-market, or market-ready solutions will be supported to demonstrate, pilot and upscale their solutions. 
They are not looking for proposals for research papers or research projects as they aim to support targeted activities to develop, demonstrate, pilot and upscale concrete solutions. 
Review the challenges, prepare a compelling application, and submit your solution through the application form hosted on F6S. Visit the submission guidelines for complete information about eligibility, application, and evaluation.
Submit your proposal by 19 November at 23:59 CET.