Together with the growth of the world population, a cellulose gap appears due to the growing demand of fibre and the decreasing availability of cotton. It means that about one third of textile fibres used in 2030 would need to be cellulosic. Cotton can be replaced with man-made cellulose fibres or real cellulose-based fibre. Turning challenge into opportunity and action, Spinnova, a Finnish, sustainable deeptech company, has developed an innovative technology for manufacturing cellulose-based textile fibres, which spins textile fibre out of wood-based cellulose. The patented method includes 0% harmful chemicals and 0% waste or side streams, making the fibre and the production the most sustainable in the world. This breakthrough technology was inspired by spider web.

Spinning off – A unique method inspired by spider web
Back to 2009, Juha Salmela, one of the two founders of Spinnova, was researching nanocellulose, its rheology and paper production at the Technical Research Centre of Finland's (VTT). Being inspired by a presentation on the similarities between a spider web's protein and nanocellulose, Juha came up with an idea: what if wood fibre could be spun into textile fibre?

As part of an EU project, Juha and VTT began to take the innovation forward and soon applied for a patent for the idea. In early 2015, Head of Biomaterials research area at VTT Janne Poranen and Juha continued the development of the innovation under their newly established company, Spinnova.

After two years of laboratory scale R&D, the technology was scaled up to a small pilot scale and then to an industrial pilot scale in December 2018, when the construction of the pilot line was completed. The pilot line was ramped up over early 2019. In 2020, Spinnova starts the commercialisation process, focusing on joint product development with different brand partners. In practice, this means developing prototypes of commercial products, where part or all current materials will be replaced with Spinnova's cellulose-based fibre.

Zero harmful chemicals and Zero waste
Spinnova is the only company in the world converting pulp into textile fibre without harmful chemicals. The process is based on mechanical treatment of the pulp, as well as fibre suspension flows and rheology. There are no waste streams in this closed process. Its only side product is evaporated water, also recycled back into the process.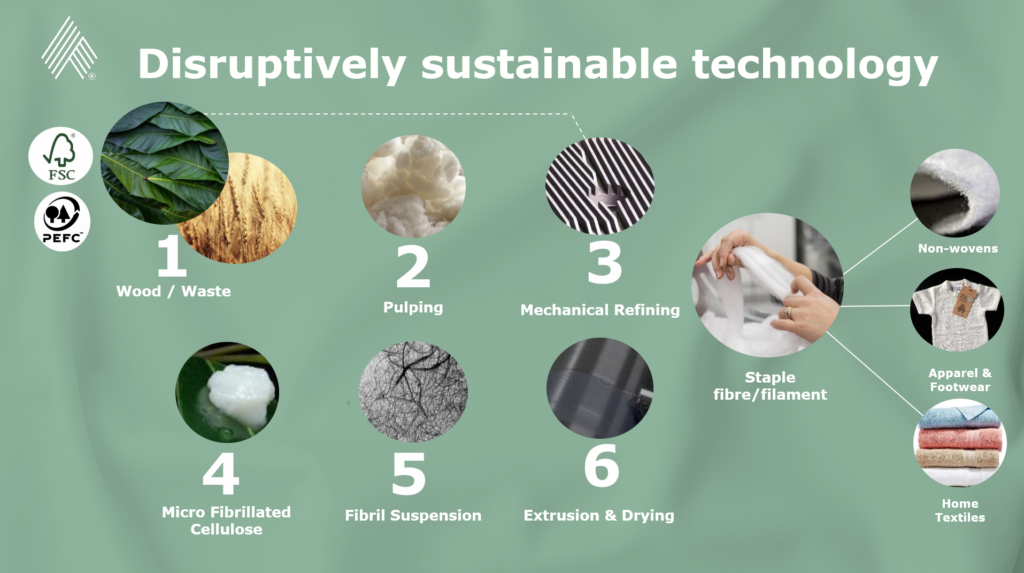 The finely ground pulp mass flows through a unique nozzle, where the fibres and fibrils rotate and align with the flow, creating a strong, elastic fibre network. The fibre is then spun and dried, suitable as-is for spinning into yarn and then knitting or weaving into fabric elsewhere.

Besides using pulp, this unique technology is also equally suitable for cellulosic waste streams, which leads to its huge potential in turning agricultural waste streams into textile quality fibre. This potential was taken forward in May 2019 through an innovative strategic partnership between Spinnova and the Finnish energy company Fortum within Fortum's bio-based business focusing on resource efficiency. Spinnova and Fortum could disrupt the use of natural cellulosics such as cotton. If a cotton field was replaced with wheat for example, and just 30% of the straw is utilized in a bio-based ecosystem, the same amount of textile fibres as from the cotton field could be captured with much less water use. This would also answer one of the world's biggest concerns; a growing population that needs more and more natural resources to produce both food and clothes.

The cellulose-based textile fibre is 100% natural, 100% recyclable and 100% biodegradable with 0% microplastics. It can be used for various textiles in the fashion and home textiles industry, both as fabric and padding, and can replace a number of fibres such as cotton, viscose, modal, lyocell, wool or other fibres depending on the application.

With minimal water and energy consumption in the production, the Spinnova fibre also helps fight climate change. When it comes to water consumption, compared to cotton production, the technology uses 99% less water in its process.

Contribution to the realisation of FTP Vision Targets
By producing sustainable and environment-friendly cellulose-based fibre from FSC certified wood, which supports responsible forestry, with 0% harmful chemicals, 0% waste and using minimal water and energy consumption in production, the breakthrough technology of Spinnova enhances the contribution of the forest-based sector, in general, and the textile industry, in specific, in reaching a low-carbon bio-economy. To be specific, it contributes to the realisation of three vision targets of FTP:

Vision Target 4: Towards a zero-waste, circular society

By 2040 material collection rates of forest-based products will reach 90% and their reuse and recycling account for 70% of all recyclable material.
Optimising material recovery through efficient collection, sorting and separation
Adapting reuse and recycling technologies to complex products
Boosting the circularity of forest fibres and wood products
Vision Target 5: Efficient use of natural resources
Reducing energy consumption in biorefineries, including pulp and paper mills
Improving raw material efficiency and production value in wood-based manufacturing
Vision Target 9: New fibre-based products and 80 per cent lower CO2 emissions

The pulp, paper and forest fibre industry is well on its way to reaching the targets to cut its carbon emissions by 80%, while creating 50% more added value.
Providing sustainable, fibre-based, high-value consumer products
Developing more sustainable and competitive processes for papermaking and other biobased products
With this innovation, Spinnova's business is directly related to 5 of the 17 Sustainable Development Goals for 2030 adopted by the United Nations as below: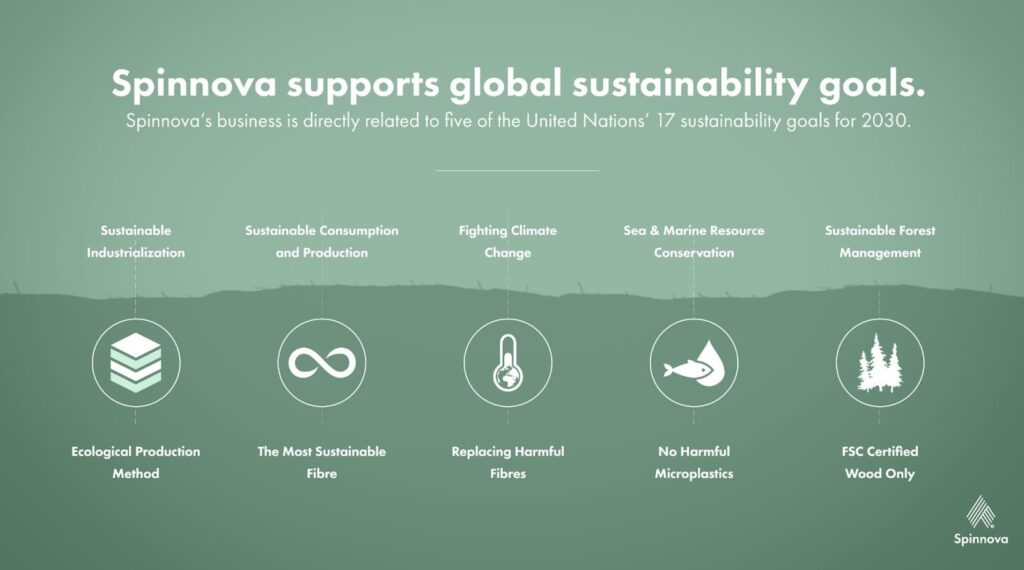 References:

Presentation of Pia Qvintus, Business Development Director of Spinnova, on "Spinnova – Developing the most sustainable fibre in the world" at the FTP Annual Conference 2019 https://www.youtube.com/watch?v=POGK75SmsHQ
Spinnova's website https://spinnova.com/
The Strategic Research and Innovation Agenda of the Forest-based Sector (SIRA) 2030 http://new-www.forestplatform.org/system/attachments/files/000/000/692/original/SIRA_2030.pdf?1574846949